Florida Commercial Softwash is a professional commercial, industrial and multifamily pressure washing – roof cleaning – window washing – paver sealing – waterproofing contractor services company that services the entire state of Florida.
We Make Properties Look Brand New with Professional Exterior Cleaning

Florida's leading Commercial Exterior Cleaning & HOA Pressure Washing Experts
When the exterior of your commercial property starts getting dirty due to age and the elements, you need a professional cleaning crew that can get your property looking as good as the day the doors first opened.
At Florida Commercial Softwash, we've field a highly-experienced cleaning crew with years of experience cleaning apartment complexes, commercial buildings, storage facilities, and so much more. We are able to handle a variety of commercial, industrial and multifamily pressure washing requests all over the state of Florida, so you can get your property looking beautiful in no time flat.
Comprehensive Solutions Designed to Building Needs
No two buildings are the same, which is why standard pressure washing services don't work for each property. Our team can find the right safe, ecofriendly solution to help you get the perfect clean at the right cost. Not only that, we guarantee that our methods and standards will protect your building during cleaning and long after.
Standards You Can Trust
We aren't just good at what we do, we're one of Florida leading pressure washing experts. That's why we not only cover the entire state, we offer better results and more cleaning answers and techniques. When you want to restore your building's appearance, protect its surfaces, and just give it a new look without the cost of having to resurface the entire building, then look to Florida Commercial Softwash.
Here are just a few ways we can improve your property:
Cleaner exterior
Moss/growth removal
Brick, mortar and siding protection
Meet occupancy standards
Save money versus painting or resealing
Increase value of your property
And so much more!
Fully Insured and Right on Time
We don't just offer an affordable cleaning solution because we're trying to get business, we're also a fully insured company. That means we offer a premium liability policy with complete workman's compensation insurance, so you're fully protected when you hire us to work for you.
Here's a partial list of our Happy Commercial Clients – You're Next!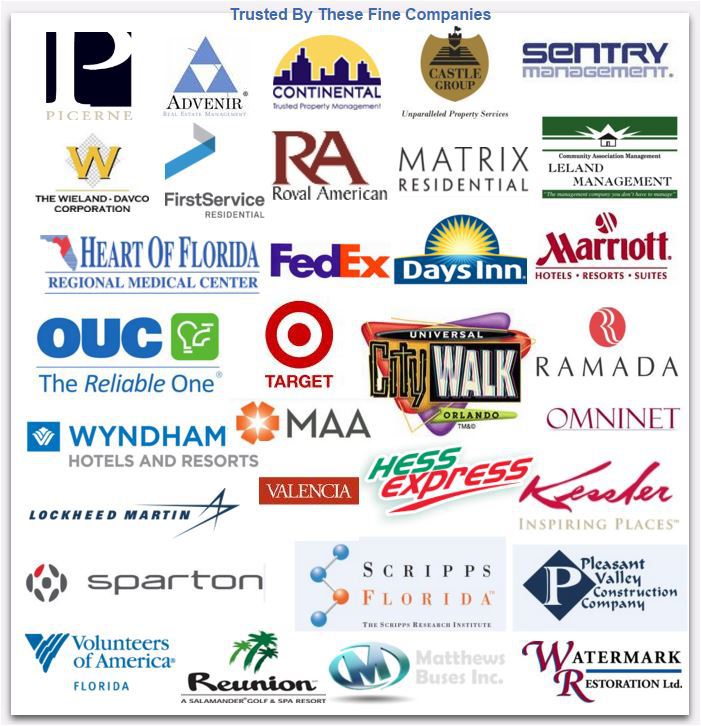 Call (855) 782-1671 for a FREE Fast Easy Price Quote – NO JOB's TOO BIG – we've
got you covered anywhere across the state of Florida.