Restore Life in Your Property with Professional Pressure Washing

Let's be honest, whether you're a property manager, business owner, or run a HOA – COA, if your property looks gross and yucky, you're losing business, hurting your image, or looking like the neighbor that just doesn't get it.
If you're looking to finally cleaning up your property, and need a professional cleaning team to help you make the outside look new again, then look no further than Florida Commercial Softwash.
Improve Your Property While Saving Money
There are tons of things you can do to have a more beautiful property, but few are faster, easier, and more cost-effective than a simple pressure wash. When you hire Florida Commercial Softwash to professional clean your complete property exterior, driveway, walkways, or other amenities, you'll enjoy a fresher, more beautiful look that enhances your property's potential. We also happen to offer the best rates in the entire state of Florida!
Ship Shape Surfaces
Whether you're trying to remove grime from your walkways, stains from your buildings, or grease from slippery surfaces, we can help make your property look healthy and be safer for you, for customers, or even potential building tenants. Not only does this help improve the visual appeal of your property, it can help increase your financial capabilities and protect you from potential health concerns.
Fight Florida Weather
Florida is known for beautiful weather, great beaches, and tons of fun; what you may not know is that the gorgeous weather is also a major proponent of two of the biggest property problems in the state—algae and mold.
We at Florida Commercial Softwash can attack these problem areas by cleaning and preventing them using ecofriendly solutions that keep your surfaces and paint looking new, longer, so you can save money and effort.
Here's a partial list of our Happy Commercial Clients – You're Next!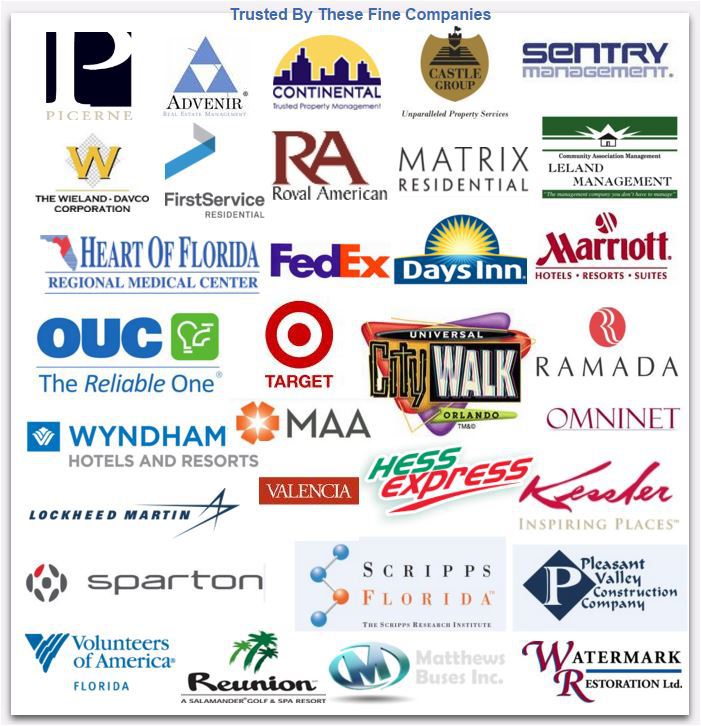 Call (855) 782-1671 for a FREE Fast Easy Price Quote – NO JOB's TOO BIG – we've
got you covered anywhere across the state of Florida.
South Florida Paver Cleaning Services