Extend the Life of Your Roof with Professional Roof Cleaning Services

You might think that a dirty roof is nothing more than an unsightly bother, but it very well could be the start of something that could cost you many thousands of dollars in the near future such as damage, leaks, or resale woes. That's why we at Florida Commercial Softwash want to help extend the life of your roof and help protect you from emergency services, roof replacements, or internal damages.
Looks Great, Adds Value
Having the roof of your home, business, or property professional cleaned by Florida Commercial Softwash not only ensures your roof is cleaner and looks great, it helps improve property value, reduces buildup that could be seeping into your property, and protects you from algae, mold, dirty, grime or even harsh chemicals.
The Right Wash at the Right Price
Pressure washing anything, even your roof, should only be done by professional who understand pressure levels, eco-friendly cleaning solutions, and how to get the job done without damaging your roof or home. Florida Commercial Softwash professionals have serviced thousands properties all over the state so we know exactly what it takes to care for your property in just the right way.
Having your roof properly cleaned offers the following benefits:
Improves property values
Reduces damaging buildup
Reduces and/or prevents algae, moss, mold, or other external issues
Extends the lifespan of your roof and/or shingles
Enhances curb appeal
Saves you money in the long term
And so much more
When you need a professional cleaning team that can help you get your commercial property looking new, healthy and ready for whatever Florida weather sends your way, then choose Florida Commercial Softwash and get the professional help your home needs right away.
Here's a partial list of our Happy Commercial Clients – You're Next!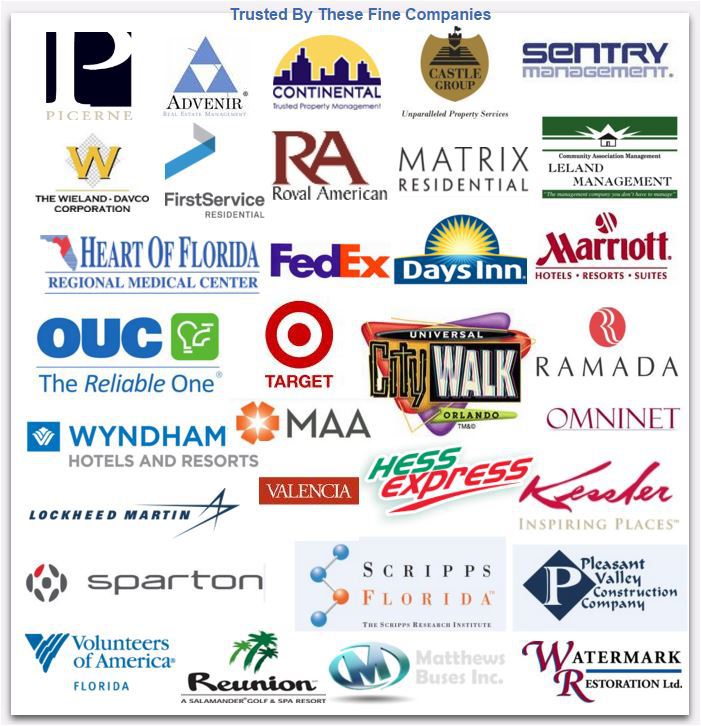 Call (855) 782-1671 for a FREE Fast Easy Price Quote – NO JOB's TOO BIG – we've
got you covered anywhere across the state of Florida.